Buy and Sell in and around Birmingham Powered by
14hh happy hacker 6 year old
in Tamworth, England
Advertised by AMR, a Preloved member since June 2010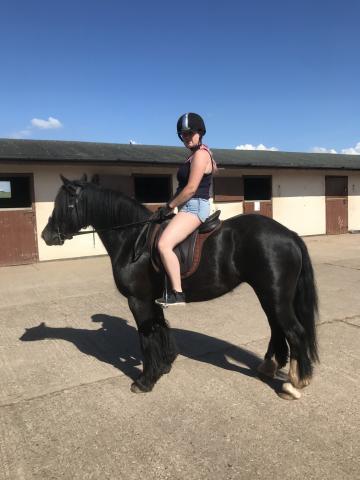 Advert

Details
Item

Price

£1200

OVNO

Breed

Cob

Sex

Mare

Passported

Yes

Size

14 hh

Current Age

6 years
Advert

Description

BONNY

Height: Approx 14hh
Breed: Cob
Age: 6 years old
Sex: Mare
Based: Tamworth
Passport and microchipped

Bonny is a sweetheart to handle by adults and children. She has a amazing temperament. Bonny is easy to do in all ways. Bathing, grooming, picking her hoofs up, clipping, loading, farrier, vet, catching etc. Bonny to hack is golden, alone or in company (please note the first couple weeks owning hacking alone you do need kick her along why she settles with you) Bonny isn't spooky the worst she does if unsure is a little side step why having a look or stop stare ask her to carry on and she will. Bonny in the school does need producing so in this area I'm classing her as a project. She happily plod round the edge walk trot with a adult or child. Popped little fences in last home. We haven't jumped her due to I feel she needs producing more in school so she can correctly be brought on jumping. I am going start producing her myself which means her price will go up. Bonny would make someone a nice little all rounder as she has a heart of gold and always willing to please. I haven't found any fault with her. She vice free. Lives in or out. Currently out with us with the weather being so nice. Bonny is the sort of pony that doesn't need to stay in work. If you leave her a few weeks you can get on as if she never had a day off. Bonny been hacked over the railway bridge with trains going underneath. She fine with tractors buses, chickens,goats, sheep and dogs.
She also great to ride bareback in head collar and lead ropes. Bonny isn't mareish at all.

**PLEASE NOTE**
Bonny isn't a ready made pony which is why she currently advertised at the price she is. She currently classed as a happy hacker with the need be produced in the school. Bonny is green as she still going but she a safe green. Bonny would be a easy project for someone or make someone a lovely pony.

£1200 Ono
No tack
No Loans, loans with view to buy or payment plans. No joy riders please.
Vettings welcome.