Buy and Sell in and around Birmingham Powered by
14hh happy hacker 6 year old
in Tamworth, England
Advertised by annie_rathbone, a Preloved member since June 2010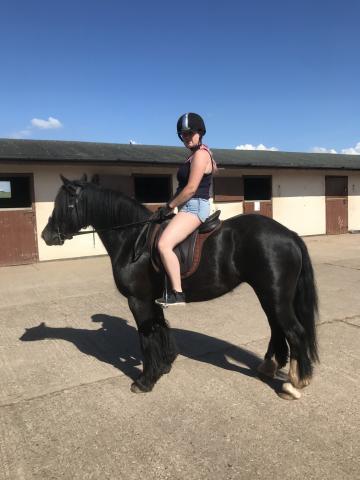 Advert

Details
Item

Price

£1000

No Offers

Breed

Cob

Sex

Mare

Passported

Yes

Size

14 hh

Current Age

6 years
Advert

Description

REDUCED

BONNY

Height: Approx 14hh
Breed: Cob
Age: 6 years old
Sex: Mare
Based: Tamworth
Passport and microchipped

Bonny is a happy hacker. My opinion for her age is brilliant as best way to let a horse mature and she totally unspoilt. Which means someone can put there stamp on her. Bonny hacks alone or in company. Stands at junctions. She got a nice forward active walk and a steady trot. She listens to your voice. Good brakes. Bonny on the road if she unsure of something will just either stop have a look you ask go forward goes past no problem or tiny side step nothing that would unseat you. She would make a nice mother daughter share for hacking out or a nice dressage pony in the future as she carries herself nicely. Easy to catch. Lives in or out. Good with sprays, to groom, picks up all four and too bathe. Bonny is a low mainteance pony and unshod. Bonny loads and travels well. Good with other horses. Easy to tack up even opens her mouth for you. Bonny been rode in a headcollar and lead rope. Walk and trot, came back soon you ask, good stirring. Bonny is fine with chicken, goats, tractors etc. Bonny for a cob is not bolshy either she has lovely manners.
Bonny can be tried in a field, 65mx20m school or out hacking alone or I can take one of my others along with you where she based.

£1000 no offers
No tack included so please don't ask.
No loans or loan with view to buy or payment plan.
Please feel free to message for any more information.